There aren't too many options for a dinghy on a small sailing boat. Space is limited below and there is nowhere to store a rigid dinghy because the cabin top is too small. Davits are only really suitable on a larger boat.
There are some out there who are happy towing their dinghy from anchorage to anchorage. But I've seen them fighting an unruly dinghy in a squall and I just don't think it's a seaworthy option. Even on a mooring I've been forced by wind and waves to ship and stow the dinghy in the middle of the night for fear of losing it.
However, there are still some other possibilites. Firstly, there is the inflatable and secondly there is the folding dinghy.
Well, in my experience most inflatable boats are pretty bulky apart from the very small ones or the canoes. I had a Sevylor inflatable canoe (below) which was affectionately known as 'The Crocodile'. Sadly, someone stole The Crocodile in Minorca leaving me with just the paddle. Why anyone would think to take the canoe and not the paddle beats me but if anyone sees a green Sevylor inflatable canoe with some grey patches underneath on Minorca please let me know!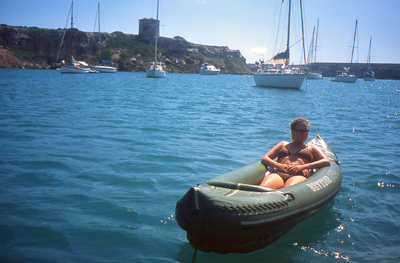 I liked the Crocodile for two reasons, firstly, when deflated it took up very little space and fit under the v berth on my Flicka. Secondly, it was easy to paddle in a strong wind.
If you've every tried rowing an Avon into a stiff breeze and chop or into a tide you'll love a canoe. On a small boat it's really not practical to have an outboard either. Personally I dislike outboards intensely and would rather not use one. I hate being woken up at 6am by a noisy little machine put-putt-ing past my boat and the pollution is nasty. But people insist on them...
I may one day get one of those electric motors when I'm too old to row but for now I'd rather give my heart a work out. The Origami folding dinghy rows better than most ordinary inflatables and there's a sailing version too. I built one using the plans by Wooden Widget (see below). It's a remarkably stable and seaworthy little boat.
Here's a picture of 'Carawee' TT Caraway. It's straightforward to make even if you've got very limited wood working experience. I decided I wanted one to match my boat so I painted the sides black and the inside white and used solid teak for the keel and transom. It's an easily customisable design.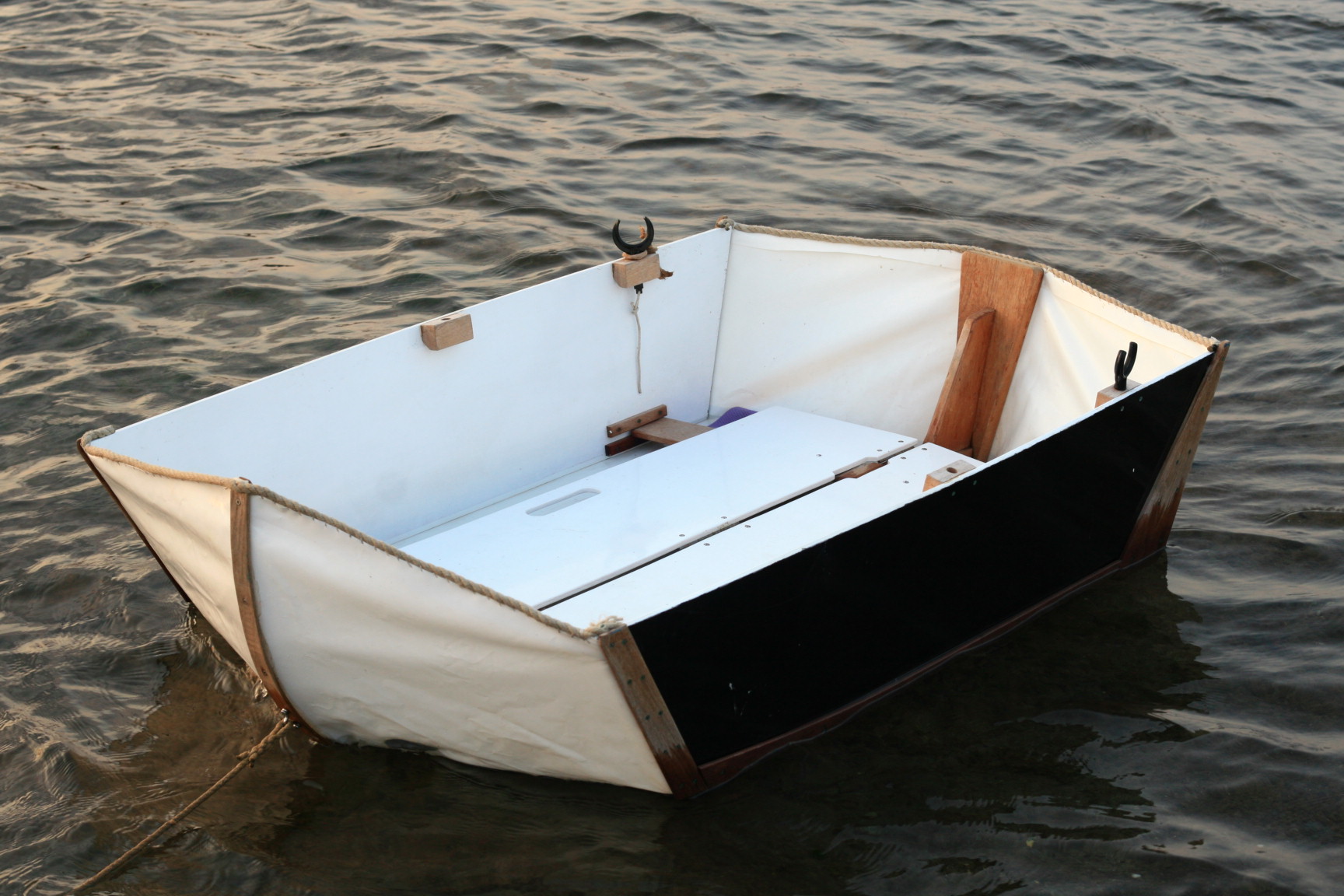 It's quicker and easier to use a nice wood faced ply for the sides and then just varnish the whole thing like this red cedar version.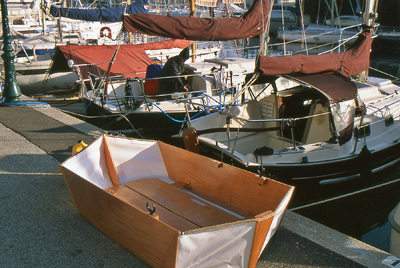 Red cedar is also lighter than teak, just as strong and resistant to rot too. Behind are Caraway, her sister Doolittle (Dana 342) and at the end the old wooden cutter Blown Away.
If you are interested in finding out more about the Origami Folding dinghy then follow the link below to purchase a set of plans.